Shipping & Returns
We take great care to ensure that each artwork you acquire travels in the best conditions so you can enjoy it fully. Each artwork comes in specific packaging to the material it is made of. This may include acid free tissue paper, bubble wrap, acid free foam board and/or cardboard sheets/tubes. We recommend that your retain this packaging at all times as it is the best way to transport and care for your artwork when not framed.
You will also receive full information about the artwork, the artist, a copy of the condition report and a complimentary pair of cotton gloves. Artworks are fragile and unique and should only be handled with these gloves as some surfaces may irremediably be damaged otherwise (such as paper based, mixed media, photographic artworks, paintings, sculptures, prints, etc).
We strongly recommend that upon reception of your artwork, if suitable for framing, you take it to a professional framer who would advise you of the best materials to enhance, preserve and protect your artwork. If you need any guidance in this area, please Contact us.
Shipping
All artworks are shipped to Australia and overseas registered and insured to the full value of the artwork.
Once payment has been received in full for your order, the artwork will be packed with great care and a condition report will take place. You will be notified as to the packing schedule, the expected shipping schedule and kept updated of the delivery schedule from the time of the courier pick up. In most instances, we expect the whole process to take up to 15 business days from the time of payment notification. However, this timeline may vary in accordance to the specificity of the packing and the delivery destination, external framing or printing services and the freight company requirements. If you need an artwork within a specific time frame, please Contact us.
All deliveries will be registered and insured for the full value of the artwork. The costs of postage and the shipping are charged to the Buyer.
Depending on the type of the artwork, its size, weight and fragility, we will choose and use the most appropriate shipping companies. Artworks are shipped via Australia Post or a specialist art courier and are subject to variable shipping costs based on size, weight, value and delivery location. The Gallery will contact you with regards to shipping charges for oversized artworks (over 1 cubic metre) and international deliveries.
Overseas delivery will be taken care of via DHL, or an alternative if not available. All customs import duties and taxes are the responsibility of the Buyer. DHL, or the other courier provider, will contact you directly in this regard and these costs will be payable to them directly.
Deliveries cannot be made to a postal box, only to a street address and all deliveries will require identification and a signature.
Shipping times may vary during the holiday season, e.g. Christmas and Easter.
Order Cancellation Due To Error
Where an artwork has been listed at the incorrect Retail Price, or with incorrect descriptive information or image, due to typographical error or similar oversight, or is unavailable for any other reason, we reserve the right to cancel a transaction. Where your credit card has been charged or you have otherwise paid the Retail Price for the artwork, we will refund your credit card or account, as the case may be, for the total amount debited, including all additional charges.
Once you have submitted an order, you may not cancel that order. If you still need to cancel, please contact us urgently at info@noellalopezgallery.com no later than 24 hours after the credit card transaction taking place.
Returns Policy
We undertake to take back any artwork delivered to you that is faulty or is in a damaged condition. You need to notify us in writing within 48 hours from the time of delivery of the artwork. Due to the unique nature of each artwork, we will review the situation with you once you have notified us. If you wish to return a faulty or damaged Work, you must notify us through our designated "contact us" webpage, including details of the order number from your original confirmation email. Please note that a condition report of the artwork at time of shipping as well as a photograph of the artwork immediately prior to shipping will take place in case any damage were to occur in transit. Artworks can only be returned in their original packaging, at our cost, only once approved by us, via an agreed courier company and only to the address (the Artist's or otherwise) communicated by the Gallery. We also require proof of damage to the artwork via digital snapshot. The Gallery will follow up on lost or damaged artwork with the courier provider and resolve the matter as promptly as possible.
If we are unable at the time of return to replace or exchange the returned artworks, we undertake to reimburse your credit card for the amount initially debited for the purchase However, EFT payments are encouraged to avoid the online credit card fees liability particularly for payments over A$5 000.
Please note that we do not offer refunds if you change your mind upon receipt of the artwork. Agreement by us to take such artworks back are entirely at our discretion, and in such case, return shipping and insurance costs would then be at your expense. Upon receipt of the goods in the same condition as initially sent and in their original packaging, a credit note would be issued to you to be used within 3 months less any costs borne by the Gallery.
Artworks Orders
We endeavour to ensure that our artwork list is current however we give no undertaking as to the availability of any artwork advertised on the Site. The Retail Price is shown next to each artwork. We reserve the right to amend our prices at any time. If you have placed an order, we reserve the right to cancel your order should our prices change. All our retail prices are in Australian Dollars (AUD).
GST applies to all artworks unless the artist is not registered for GST, and/or when a Work is ordered from an overseas based Buyer unless the Buyer is a foreign organisation based in Australia when GST will apply. GST will be included in other costs. GST is not applicable on the purchase of gift vouchers.
We supply and despatch artworks to buyers within Australia and overseas. Postage and insurance are calculated at time of purchase as these costs vary according to size, weight and destination.
When you order from us, we require you to provide your name, address for delivery, your email address, and telephone contact. We undertake to take due care with this information; however in providing us with such information you accept that we are not liable for its misuse due to error in transmission or virus or malware.
Any credit card payments are made through eMatters ("eMatters") and information about their privacy policy is available at www.ematters.com.au/privacy-policy.html. We do not collect any information concerning your credit cards or bank account details as all payments are processed by eMatters. Credit cards accepted are Visa, Mastercard, American Express and JCB. For sales in excess of $5,000 we recommend using electronic funds transfer ("EFT") and we will provide account details on your invoice upon confirmation of the order to enable you to make an EFT for the costs agreed.
We will email a tax invoice to you with your order confirmation. Your tax invoice is your proof of purchase.
Delivery of your ordered artwork will be as set out as above. Title in the artwork passes to you when we have unconditionally and irrevocably received payment for the artwork as well as shipping and insurance costs.
All risk of loss or damage to the artwork passes to you when the Work is delivered. If an artwork is lost in transit, it will not be replaced due to the artwork's uniqueness. In the event of an artwork lost in transit, we will refund your credit card or account, as the case may be, for the total amount debited, see above regarding our returns policy.
The Gallery will not accept liability for any loss or damage due to late delivery or an erroneous address provided by the Buyer.
Please refer to our Terms & Conditions Policy and Privacy Policy for further details.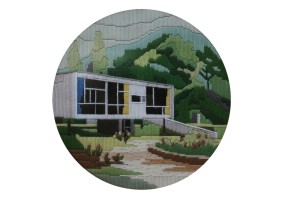 $1,950.00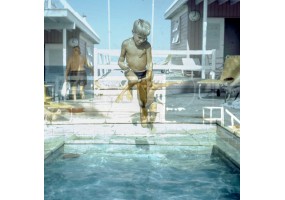 $7,500.00